What is OCJF?
Orange County Justice Fund (OCJF), is a nonprofit organization based in Orange County, California dedicated to supporting the most vulnerable immigrant and refugees in Orange County impacted by immigration prison and deportation and generating for transformative change in the U.S. immigration system to ensure are afforded effective legal representation, due process rights, and services for community re-integration. 
Our Mission »
We believe that all individuals regardless of their country of origin, deserve to be treated with dignity, justice and equity. We envision an Orange County where immigrants and refugees are not only welcome, but also honored for their contributions to our community. We strive to advocate for accessible and effective legal aid, especially those individuals and families defending against detention and deportation. By working towards transformative change, we hope to create a more inclusive and equitable society for all.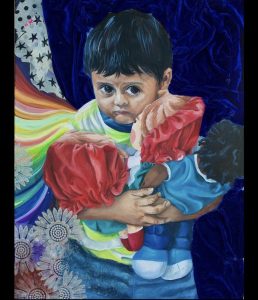 Our History »
In 2017, Orange County Justice Fund was founded through a collaboration of grassroot leaders, attorneys and law professors, to advocate for transformative change in the immigration legal system and support immigrants and refugees impacted by detention and deportation in Orange County. The same year, OCJF along with other community groups, advocated for the city of Santa Ana to become the first and only city in Orange County to become a member of Vera's SAFE Cities Network, a national network of cities that have pledged support for deportation defense funds. As a result, Immigrant Defenders Law Center – an organization devoted to providing pro bono representation to immigrants in detention opened its first office in Orange County and prompted an urgency to address the needs of deportation defense coordination and support.  
OCJF hired its first staff person in 2019 and collaborated with local stakeholders to deepen the impact of deportation defense services, which were just emerging in Orange County. The same year, OCJF launched an immigration bond fund – the first and only in Orange County and joined the National Bail Fund Network to support in the liberation of persons in immigration prisons and help them reunite with their loved ones. OCJF also fiscally sponsored the Long Beach Liberation Fund, and in time launched new programs, including a fellowship and a healing program Cafecito Contigo for persons that received assistance through OCJF's bond fund or otherwise impacted by the immigration and criminal legal system. OCJF also opened an office space at El Centro Cultural de Mexico in Santa Ana.  
In 2021, OCJF along with other community groups successfully advocated for the city of Irvine to allocate $5 million from ARPA fiscal local recovery funds for vulnerable populations in Irvine impacted by the pandemic, including those who need legal assistance regardless of immigration status, and received funding to begin providing legal empowerment workshops to residents in south Orange County, and opened an office in Irvine, CA to begin providing services. OCJF continues to provide immigration bond assistance through fundraising and is deeply rooted in advocating for immigrant and refugee justice through all aspects of work.  
The Problem
Every year, Orange County (OC) families continue to face apprehension, detention, and deportation from immigration enforcement authorities. Although the three federal immigration detention centers housed in OC have closed, in 2021, the federal government opened the Santa Ana Immigration Court and immediately filed 2,684 new removal proceedings, also known as deportation proceedings, against mostly OC residents (1). As of February 2023, over 22,949 deportation cases are pending at the Santa Ana Immigration Court and over 17,000 are OC residents (2). Unaccounted for are the many OC residents and families facing removal proceedings outside of immigration courts, including those on appeal, those with exhausted appeals, and those already deported but who continue searching for legal options to return to the United States. 
Individuals facing deportation are not afforded the right to government-appointed legal counsel while defending against deportation. Limited legal options contribute to the 1 in 4 odds of an immigration bond being granted (3), higher chances of deportation (4), and additional mental health strains. Even if a bond is granted, the average price for someone's physical freedom is over $10,000 and no post-release support is guaranteed. OCJF works to support immigrant and refugee families from a system that is working against their overall well-being by providing programs and services tailored to the needs of those impacted by the immigration legal system, and advocating for transformative change in U.S. immigration system.  
Our Beliefs
We believe it is our shared responsibility to safeguard the human dignity of vulnerable members of our community, including immigrants and refugees. 

We believe that the immigration and criminal systems cause harm to families.

We believe that no immigrant or refugee should be forced to defend themselves from deportation without an attorney. 

We believe that criminalizing immigrants and refugees without due process erodes the foundation of our justice system. 

We believe that immigrants and refugees contribute to a vibrant, safe community.